10th Annual Sporting Clays Classic
Thursday, October 13, 2022
Description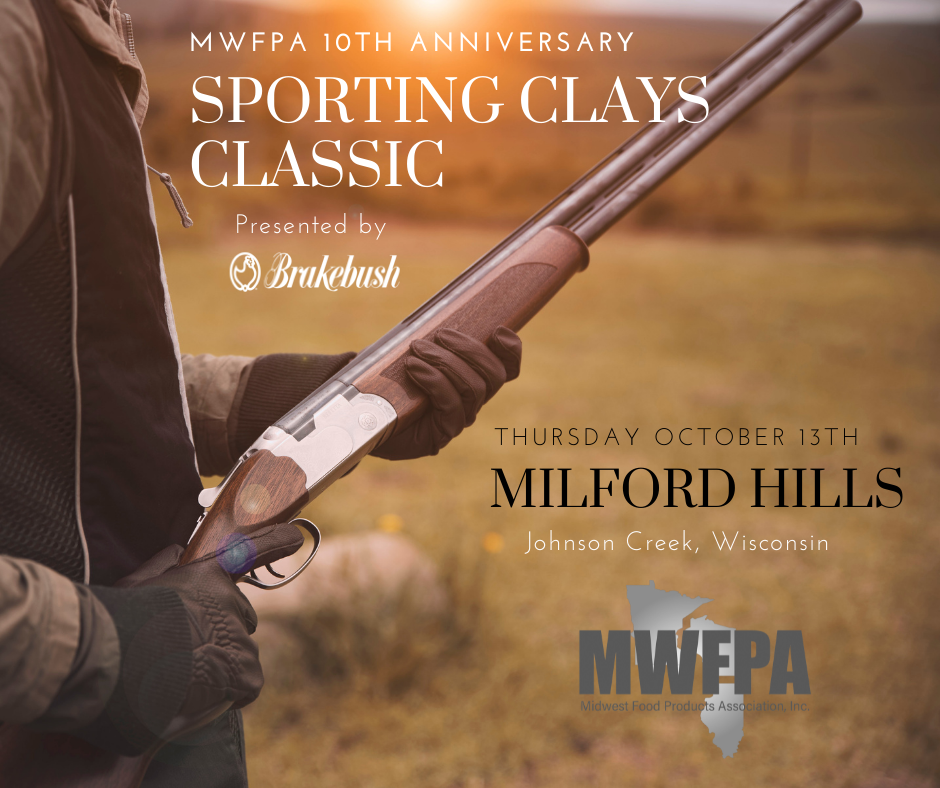 The 10th Annual MWFPA Sporting Clay Classic is scheduled for October 13th at https://milfordhills.com/
and we are looking forward to an afternoon of shooting fun and raising money for member employee-student scholarships!
We're celebrating our 10th year with a bigger and better raffle!
Thanks to MWFPA member John Tasker of Seneca Foods for doing yeoman's work on securing raffle prizes.
Donors include:
Hornaday
Kifaru International
Sitka
Vista Outdoor
Vortex
If you're new to the game, sporting clays is a shotgun shooting game in which clay discs are presented in ways that mirror the flight pattern of birds. Each station on the grounds has different features and unpredictable disc delivery. Some shots will be surprisingly easy and some border on impossible! We hope you will join us this year at Milford Hills. We'll be sure to order up some fall colors and great weather.
EVENT ITINERARY
10:00-11:00 a.m. - Registration at the Hideaway
Check in at the desk and consult the board for your team number
11:00 a.m. - Lunch
11:45 p.m. - Mandatory Safety Review
Gather your team and pick up your scoring sheet & clipboard
12:00 p.m. - Sporting Clays Challenge (100 rounds)
Head out to stations
3:30 to 6 p.m. - Post-Shoot Social, Raffle & Awards
Food will be served until 5:30 pm
THANK YOU TO ALL THE 2022 SPORTING CLAYS SPONSORS!
PRESENTING SPONSOR
Brakebush Brothers
Shooter Warm Up Sponsor
Seneca Foods
Lunch Sponsor
Lyco Manufacturing
After-the-Shoot Social Sponsor
Michael Best & Friedrich
12 Gauge Sponsor
Pure Line Seed
Chippewa Valley Bean Company
Lakeside Foods

20 Gauge Sponsor
Silgan Containers
Bush Brothers & Company
AMM Incorporated
Station Sponsors
Ampco Pumps Company
Bayer Crop Science-Seminis Vegetable Seeds
Brotherton Seed Company
Cushman & Wakefield
Del Monte
Doral Corporation
Harris Moran Seed Company
JP Cullen
Pearl Engineering
Seneca Foods
Syngenta Vegetable Seeds (2 Stations)
Watertech of America
Yamato Corporation
Images
Pricing
$150 per person
Raffle Prizes
Hornaday Lock-n-Load Classic Reloader
Hoppe's Gun Care Gun Vise
Champion Workhorse Electronic Trap
Champion Ear Muffs, Electronic
Rogan Pouch and Rogan Belt System
Vortex Red Dot Site
Vortex Gear
More to come!
Milford Hills
W5670 French Road



Johnson Creek

,

WI

53038

United States



Thursday, October 13, 2022
Categories
Annual Sporting Clays Challenge